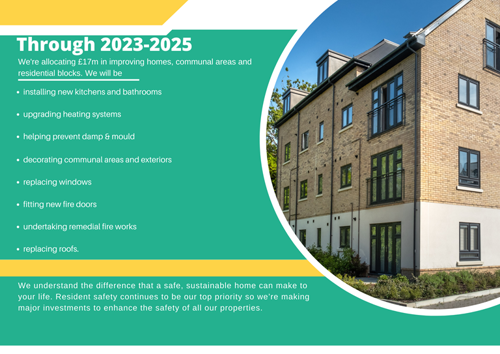 It is important for both you and us, that your home is kept in good condition. As your home gets older, it may be necessary for us to replace or refurbish items such as kitchens, bathrooms, boilers, windows and doors. We will aim to visit your home every three years to carry out a stock condition survey, during which an assessment is made of the condition of key components.  You can find out more information below.
Please remember that an adult (over 18 years old) must be present while we are working in your home.
We will arrange and oversee any projects but we use external contractors to carry out most major work. These contractors will always carry photo ID and they'll always tell you before they visit your home, unless it is an emergency.
Stay safe: don't let anyone into your home that you aren't expecting and who can't prove they are representing us.  Contact us to check their identification.
When works are completed, we will arrange a time to inspect and sign off the new fittings, and to get your opinions and experiences, as feedback helps us to continue improving our services.