We want to assure our residents that Housing Solutions will continue working for you within the new Government lockdown rules.
This means we aim to continue our repairs and maintenance services, cleaning and caretaking of communal areas, lettings including mutual exchanges, service charge and income collection and our welfare support services.
We also want to continue supporting our sheltered and extra care residents. We aim to continue our scheme manager visits and weekly health and safety checks as well as regular engagement with all our vulnerable residents. 
We are 100% committed to protecting your safety, health and welfare.  All our staff visiting your home will wear personal protective equipment (PPE) and will adhere to strict social distancing rules. 
If you are reporting a repair we will ask you if you or a member of your household are displaying Covid-19 symptoms, please let us know and we will be happy to rebook the appointment.
We know this is a difficult time for you. The new restrictions are likely to result in less time with friends and family. If you are worried about paying your rent, finding things hard to deal with, or you just want someone to talk to, please get in touch and we'll do everything we can to help.
The quickest way to report a repair is by using our customer portal.
Our telephone lines are very busy.  If you have a general query try using our on line chat bot on our home page or reading the FAQ pages   
If you need to speak to someone urgently please call our Contact Centre on 016298 543101. For all non-urgent queries please use our website. 
Your feedback is very important to us.  We are working very hard to action your comments and improve our services.  Please continue to let us know how we are doing by emailing contact@housingsolutions.co.uk.
Thank you for your patience during this second wave of restrictions.  We are all hopeful that by complying with the new measures it will help limit the spread of coronavirus, reduce the impact on the NHS and save lives.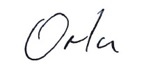 Orla Gallagher
Chief Executive