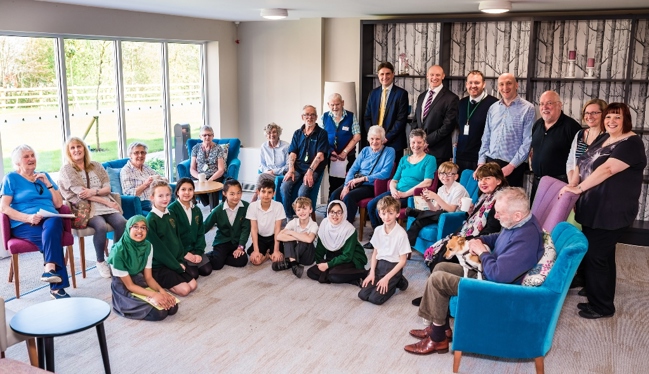 On Wednesday 18 April, pupils from Highwood School, Earley visited the residents at our new extra care scheme, The Birches following a school-wide competition to design artwork for the new scheme literature.
In the competition pupils from the local primary school were invited to draw or paint a picture to illustrate something that they liked about their neighbourhood and the local area. The winning artwork was used by the scheme owners, Housing Solutions for the residents moving in card, tenancy document pack and feedback card. There were 100's of entries and after narrowing it down to eight, the new residents voted on their winning artwork. The winners were, Anthony Rowley, aged 8 whose picture is now being used on the scheme feedback card. Danielle Cherry, aged 10 whose artwork is being used on the residents tenancy documents folder. And Haifa Ghafoor, aged 10 whose design was on the residents moving in card.
Whilst at the scheme, the pupils had a tour of some of the scheme facilities, met the residents and then the three competition winners each received a copy of their drawing, certificate and a £25 voucher from the first resident to move into the scheme, Des Fox.
Steve Woodcock, Housing Solutions Director of Operations said: "We are really keen to get local schools involved at the scheme and The team at The Birches are working really hard to build these key relationships. We were delighted with the response from Highwood in our recent competition, and the residents really enjoyed meeting with the pupils and hearing about what influenced their artwork designs and are really looking forward to doing more in partnership going forward."