The British Red Cross has today, 8th November 2021, announced the appointment of Elizabeth Padmore as the new chair of its Board of Trustees, from 1st January 2022.  Liz will bring extensive experience and expertise to the title having served in roles across the not-for-profit, public and private sectors and won the Sunday Times NED of the Year.
Previously a strategy partner at Accenture where she created and ran their global strategic think tank, Liz specialised in scenario planning, strategic communications, corporate social responsibility and relationship management.
Liz currently holds several board appointments, including as chair of the board of Housing Solutions, a housing association based in Buckinghamshire and Berkshire, and chairs committees at two Oxford colleges. Until recently she was chair of Hampshire Hospitals NHS Foundation Trust for nine years, and previously a member of the Board of IPSA, on the Council of Chatham House and a Director of National Australia Group Europe and Clydesdale Bank plc. 
Reacting to her appointment Liz said: 
"I am honoured and excited to be joining the British Red Cross.  It's an organisation whose values I care deeply about and the need for whose work has never been greater." I am really looking forward to meeting and listening to the wonderful volunteers and staff, so I can build my understanding of all that they do and so that together we can harness the 'Power of Kindness' to further the work we do helping the vulnerable in our communities and those stricken by natural disasters, emergencies and conflicts here in the UK and abroad."  
On 31 December 2021, David Bernstein CBE will complete his tenure as current chair of the British Red Cross, a position he has held since January 2014. With a particular passion for the charity's work in supporting the elderly and the health service, David made tremendous progress in refining the organisation by advocating for necessary changes in improving delivery of services.
David Bernstein CBE, departing British Red Cross chairman said: "It has been my great privilege to have served as the chair of the British Red Cross since January 2014. I have been inspired by all that we've achieved through our wonderful volunteers and staff, despite some huge challenges. Most recently we have responded with courage and compassion to help the most vulnerable in the face of an unprecedented global pandemic and to support the people of Afghanistan. I am also proud to have served on the IFRC Governing Board, which governs the international Federation of Red Cross and Red Crescent Societies.  I am certain the British Red Cross will continue to go from strength to strength, helping people in the UK and around the world get the support they need when crisis strikes.  My thanks to all our staff and volunteers for their support and commitment."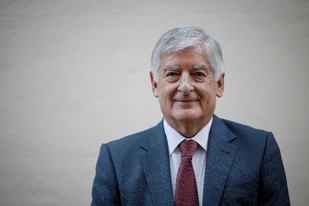 Vice-Chair of the Board of Trustees, John Dauth will also be stepping down from the board at the end of 2021 after eight years of service. During this time he played an active role in the charity's Presidents Network, championing the voice and contribution of volunteers. 
John Dauth, departing Vice-Chairman at the British Red Cross said: "It has been a honour to serve as Vice-Chair on the Board of Trustees at the British Red Cross and being able to see first-hand the truly extraordinary contributions from volunteers and staff throughout the organisation. I will forever have immense pride in serving on the Board."
Mike Adamson, Chief Executive Officer of British Red Cross, said: "I want to take this opportunity to give sincere thanks to David for all that he has done for the British Red Cross and the wider Movement since 2014. I would also like to give my thanks to John for his work and support as vice chair. All of us at the British Red Cross look forward to working with Liz to continue the work that David has led over the past eight years." 
British Red Cross  
 For over 150 years, the British Red Cross has helped people in crisis, whoever and wherever they are. We are part of a global voluntary network, responding to conflicts, natural disasters and individual emergencies. We enable vulnerable people in the UK and abroad to prepare for and withstand emergencies in their own communities. And when the crisis is over, we help them recover and move on with their lives. www.redcross.org.uk