Tenant Scrutiny Week
Last week was Tenant Scrutiny Week.  That doesn't mean tenant scrutiny only happens one week in a year, but it is a good chance to put a spotlight on the wonderful things our residents are doing to help us improve our services.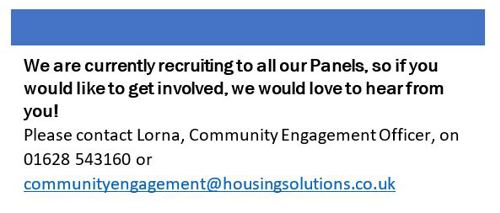 On Tuesday we held our first 'in-person' SIT Panel meeting since before the pandemic. The team have valiantly been carrying on via Zoom and Teams, but it was lovely to get everyone together. The Panel had a packed meeting, led by Steve Brookfield, Director of Housing & Asset Management.  We also appreciated the help of Lee Campbell, Community Services Manager, who talked through the Digital noticeboard currently being trialed at Jakes House.
The SIT Panel is made up of resident volunteers who are passionate about influencing policy and strategy for the organisation on behalf of all residents and making a real, and positive, difference. We are currently recruiting an Executive Director of Resident Services & Community, so the panel are looking forward to working with the new Director to continue the good work.
Since April the SIT Panel have
Had 4 meetings
Reviewed 5 Policies
Reviewed our quarterly complaint performance
Given feedback about our Online Platforms
We are pleased to share a short video to give a better insight into who our SIT panel are and what they do, and why they got involved.  Please click here to view the video.
On Wednesday we had our first Community Living Panel (sheltered/extra-care). 7 Residents came along to Jakes House to review the new Digital Noticeboard and share with Lee their thoughts, especially if it's something they feel would be of value in their own schemes.
Their next meeting is in September, and we will be creating the Terms of Reference and starting to review the progress made on the Sheltered New Deal with a focus on the cleaning and grounds maintenance.
Our Homeowner Panel will be meeting in the next couple of weeks, and they too will be reviewing progress on our Homeownership New Deal.
Lastly, we have our E-Engagement Panel who are also very new. Residents who sign up receive ad hoc documents to review or are asked to consult on a variety of services. So far, we have been grateful to receive their feedback on the new Resident Engagement Strategy, our online platforms and suggested changes to a new Asbestos leaflet being put together.