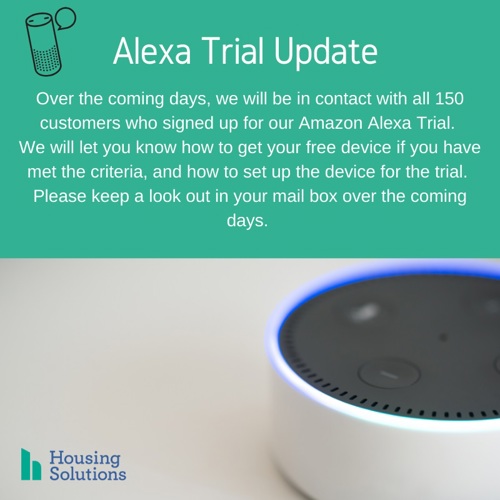 We are launching our new Amazon Alexa Skill and we asked for 50 Housing Solutions Customers to take part in a 10 week free trial. The trial started on Monday 21st October and will be running until Sunday 27th December. Eligible customers have been loaned a new Amazon Echo Dot which will be gifted to the customer upon successful completion of the trial. During the 10 week period they will be asked to provide feedback on the device at least once every two weeks, ask a questions once a week and use it as their main form of communication to Housing Solutions.  Full terms and conditions can be found below.
Terms and Conditions Amazon Alexa Skill Trial
To be eligible to take part in the Amazon Alexa Trial, entrants must meet the following criteria: the entrant must (a) sign up to the Housing Solutions Customer Portal (b) be a Housing Solutions Resident. (c) be over 18 years old at the time of signing up. (d) your tenancy account must not be in arrears on the rent account at the time of signing up for the trial.
Entries for the trial start on Monday 23rd September 2019 and entries will close on Friday 18th October 2019. Completed forms received after this date will not be eligible for the trial.
The entries into the trial will be picked at random from all eligible entries and will be notified either by email or telephone within 7 working days.
The Trial will run for 10 weeks – ending on Sunday 27th December 2019.
Alexa devices issued on loan for the length of the trial.
Trialists agree to use the Alexa device during the trial when needing to contact Housing Solutions – in addition trialists should use the Housing Solutions skill to ask a routine question once a week.
Trialist will provide all positive & negative feedback to Richard Harvey via email or the website form at least once every 2 weeks.
Trialists comments and feedback maybe advertised in/on the Housing Solutions website, Facebook page, Streets Ahead, and which may include a photograph – where appropriate.
If the customer ends their tenancy during the trial, the device must be returned with the property keys or the amount of £49.99 will be added to the final rent account balance.
The Amazon Echo Dot is in no way exchangeable for cash or an alternative.
Housing Solutions accepts no long term care for the product. Any manufacturing faults have to be reported to Amazon. Housing Solutions will not pay for maintenance or repair the device.
Housing Solutions reserves the rights to end this trial at any time.
One entry per tenant.
At the end of the trial period, and subject to all the above criteria being met – the device will be gifted to the customer.