Simon Bastienne  – Head of Treasury and Business Planning
Simon is a Chartered Certified Accountant with over 14 years working in housing finance covering various positions in management accounting, business planning and treasury, including development finance and appraisals.  He is adept in dealing with lenders, stakeholders and regulatory requirements in the sector.
Simon's experience ranges from preparing management accounts and reports, long-term financial plan, budgets, forecasts, loan compliance information, covenant re-negotiation and new funding. He has also worked with development on project appraisals and creating scheme appraisal criteria.  Prior to working in the housing sector Simon worked in manufacturing,  and banking.
Doreen Menya  – Head of Procurement
Doreen has 10 years procurement experience having worked in both private and public sector organisations including DHL, University of Reading and the NHS.  Doreen has knowledge of processes, sourcing strategies, technology, spend analysis, savings/benefits realisation and managing risk.
Doreen brings a strategic approach to procurement activity which includes developing close working relationships with stakeholders across the organisation. She is a member of the Chartered Institute of Procurement.  Doreen also holds a degree in Business Administration and a post graduate diploma in marketing.
Caroline Hempstead – Head of HR

Caroline has been with Housing Solutions since 2005 and has progressed her career so that she now leads the HR function as Head of HR. Prior to Housing Solutions, Caroline worked for Oxfam, TV Police and Thames Water. Caroline has a degree in Business Administration and is Level 7 CIPD qualified.  Outside of work Caroline is a busy Mum and enjoys keeping fit.
Richard Harvey – Head of Digital and Information Services

Richard has been with us for 16 years.  He has experience in a variety of roles and successfully headed up a number of key projects including virtualising the ICT infrastructure and improving customer access to online services. Outside work he is a busy Dad and loyal Maidenhead United Supporter.

Emily Orme - Head of Housing

Emily contributes to Housing Solutions' strategic direction by effectively managing and developing our team ensuring that we continue to prioritise customer service.  She is a qualified Barrister with over 15 years' experience of housing, property and local government law.  Her enthusiastic and knowledgeable approach has been honed by 13 years on the front line in a self-employed private practice representing social landlords, private landlords and tenants on a broad variety of housing cases from County Court to the Court of Appeal.  She has previously acted as a consultant to local authorities and housing associations.  Emily's legal knowledge combined with her pragmatism and strategic experience is a positive asset to our senior team.
Debbie White – Customer Services Manager

Debbie has 8 years experience of ensuring that Housing Solutions customers receive the level of service that reassures them that their property is in safe hands.  Among Debbie's many responsibilities she tracks our performance and makes recommendations to drive efficiency.  A key member of the management team, she is known for her hands on, can do attitude.  Debbie is very sociable and loves a party.  She is also a keen runner and has undertaken a number of sports challenges for charity.
Maureen Achuka  – Head of Finance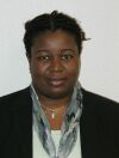 Maureen has worked for Housing Solutions for a number of years having joined the organisation as a Financial Accountant. Prior to joining Housing Solutions she worked for Avis UK. Maureen studied Business and Finance at the University of Westminster and is a Fellow of the Association of Chartered Certified Accountants having qualified in 2002.